VILLA ABAEGO
Holiday rental villa in Lanzarote
Take advantage of the Last minute offers,
advance purchase or long stays here!:
RATES 2020 – 2021
Low Season base price from 2 to 6 pax
from 610 €/day*
High Season base price from 2 to 6 pax
from 800 €/day*
* For each extra person, up to a maximum of 14 people:
– In low season
– In high season
from 40€/day
from 50€/day
High Season: Chrismas, Easter, summer and october
Low Season: rest of the year
Minimum stay Low Season: 3 nights
Minimum stay High Season: 5 nights

Villa Abaego is located in Los Riscos, the best residential area in the south of Lanzarote, just a few minutes from Playa Blanca and the Papagayo beaches, at the foot of Montaña Roja and dominating with its views from Papagayo to Fuerteventura, in a serene and peaceful setting.
The wonderful views of the sea of Villa Abaego and the neighboring islands of Fuerteventura and Lobos, as well as all the details for your total comfort, constitute your best letter of introduction.
The villa, and its 2 adjoining pavilions, within a private and exclusive estate of 3,000 m2, is surrounded by terraces, a large garden and tennis and squash courts. They have large windows with views of the sea offering great light that, together with the spaciousness of their rooms, will make you enjoy a comfortable and pleasant stay, with total privacy.
Villa Abaego, features and equipment
| | | | | |
| --- | --- | --- | --- | --- |
| m² | Max. nº person | Rooms | Bathrooms | Pool |
| 450 | 14 | 7 (5+2) | 7 (6 + 1 ext) 2 with Jacuzzi | Yes (12×5) |
Distribution of each room
Main building
Pabellon exterior 1
Pabellon exterior 2
Suite 1
In suite 2
In suite 3
Double 4
Double 5
Suite 6
Suite 7
1 bed
190 cm

2 beds
180 cm

2 beds
90+90 cm
1 bed
180 cm

1 bed
150 cm

2 beds
90+90 cm

1 bed
180 cm

Shower
Jacuzzi
Shower
Shower
Shower
Jacuzzi
Shower
Shower
Equipment
Kitchen:

Fully equipped, with complete kitchenware
Outdoor area with barbecue and wood oven
Kichenette in pavilion 6

Dinning room:

One interior next to the kitchen
Another exterior in the barbecue area

Living room:

Two in the main building and in the annex pavilion.

Bedrooms:

Main Building: (Rooms 1 to 5)

1 Suites: with living room, bathroom and bedroom.
2 en Suite, with bathroom en suite.
2 Doubles

Pavilion 6 Suite with living room-bedroom, kitchenette and bathroom.
Pavilion 7 Suite with bedroom, living room and dressing room.
The bedrooms will open depending on the occupancy contracted, (2pax / room).
Bathrooms:  7 (6 + 1 exterior);  3 of them with Jacuzzi and 4 with shower.
Wifi: Included throughout the farm.
Parking: Private parking inside the farm.
Outdoor pool: PRIVATE, EXCLUSIVE AND FREE . 12 x 5 m. Depth from 1.00 m to 1.60 m. With Jacuzzi and automatic hidden cover.
The pool is heated by an ecological heating system by solar panels and has a cover that maintains the water temperature. Given the high cost of the pump system (10 Kw/hour), if you want to increase the water temperature, it will have an extra cost of € 50/day, mandatory for the entire stay.
Sports area: PRIVATE, EXCLUSIVE AND FREE OF CHARGE. Tennis court with 5-a-side football goal and basketball baskets; regulation squash court.
Air conditioner and heating.
Piped music

in all rooms

.
Free cribs (up to 2 years).
Optional (not included):

Annex spa-wellness pavilion: jacuzzi, sauna and lounge area.
(Rent only for entire stay).
Sea-Ray 230 recreational boat rental (8 pax).
Cleaning
Entry and exit cleaning included.
Mini Clean (change of  towels) in the middle of the week included.
Weekly cleaning for each rental week.
Number of places

The number of occupants of the property will be the one declared in the reservation, whose identity will be detailed when checking-in, not allowing the stay of more people than the contracted places, in which case an extra will be charged for person and day (from € 40 in low season and from € 50 in high season).
It will always be charged occupying 2 people for each room. If more rooms are occupied, an extra space will be charged for each additional room.
Parties or meetings by people outside the villa are not allowed.
Extra services
To make your stay even more comfortable at Villa Abaego, you can optionally hire the following additional services, upon prior reservation:
On December 24, 25 and 31 and 01/01, for obvious reasons, double will be paid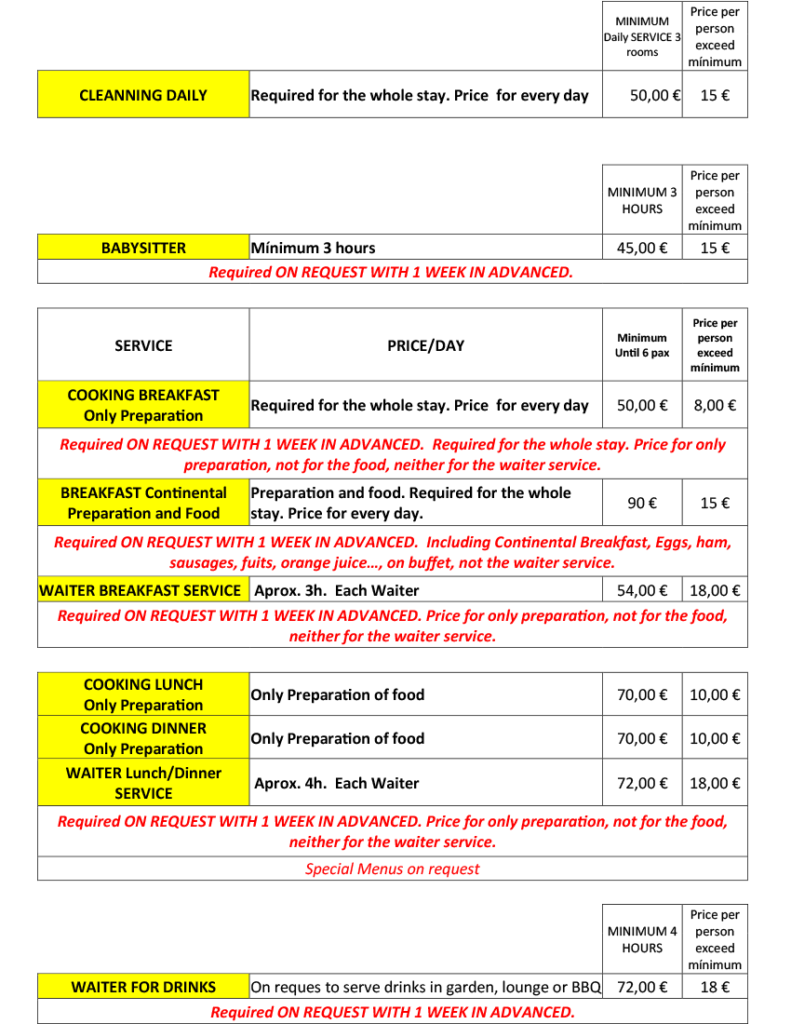 Early Check In & Later Check Out. 6 hours: Due to the logistics of cleaning and maintenance of the villa, if it is possible to approve the entrance to the villa before the official time or departure from the villa after the official time, with a maximum of 6 hours, you will have an additional cost of €300
Daily cleaning service: the cost is 20€ per room, and you have to contract for the whole stay. Look at the box bellow.
Kitchen services: We can prepare the menu that you decide. The prices that we give you, is for the preparation, so, you have to buy the food, or you can give us a list of the things that you like and we buy it, with an extracost. The prices are:

Breakfast service preparation: 50€ per day (aprox. 2 hours) until 6 persons. Adicionally 8€ more per each person. You have to contract it for the whole stay.

Extra for waiter breakfast service: 18€/hora; mínimum 3 hours.

Continental Breakfast service preparation: 90€ per day until 6 persons. Adicionally 15€ more per each person.  You have to contract it for the whole stay. The food is included in the price. Waiter extra service is not necesary becouse it is a service on buffet.
Lunch preparation services: 70€ per day (aprox. 3 hours) until 6 persons. Adicionally 10€ more per each person.
Dinner preparation services: 70€ per day (aprox. 3 hours) until 6 persons. Adicionally 10€ more per each person.

Extra for waiter lunch or dinner: 18€/hora; mínimum 4 hours.

Waiter for drinks: 18€/hora; mínimum 4 hours.

Access to the annex spa-wellness Pavilion: Jacuzzi, Sauna, and Lounge Area has a cost of € 80 / day (full rental for the entire stay).
Sea-Ray 230 recreational boat rental:
You can make use of a SEA RAY 230 sports-recreational boat of 7 meters in length, docked at Marina Rubicón in Playa Blanca, with a maximum capacity for 8 people.
For a special price of 450 euros for a half day or 700 euros for a full day, enjoy a unique nautical experience during your stay in our villas. In any case, the hiring of the captain is mandatory for € 150.
You can also contact our nautical manager, Mauro + 34 603 21 76 90, responsible for www.nauticplus.com who can help you in the search for the boat you need, even with the captain if you do not have a nautical license. For the users of our villas there is a special price.
Pets allowed. Pets are allowed with a supplement of €50/day and a deposit of twice the amount stipulated in point 2 of the Conditions section
***Extra services must be required, almost, one week before your arrival.
Terms and conditions
1. Confirmation of reservations and cancellation policy
The reservation is confirmed, depending on the date on which the reservation is made, once the income of the corresponding percentage detailed below has been received, percentages that, as the arrival date approaches, accumulate.
If the reservation is made MORE THAN 60 DAYS IN ADVANCE of the arrival date:

To guarantee the reservation, a 30% of the total will be paid, non refundable,
60 days before entry, the remaining 70% will be paid, non refundable.

If the reservation is made with LESS THAN 60 DAYS IN ADVANCE of the arrival date:

100% of the total amount of the reservation must be paid, non refundable.
We will send you an e-mail confirming each payment to the credit card you have provided.
All amounts contributed to guarantee the reservation are NOT refundable.
2. Deposit
Upon entering the villa, the amount of € 100 per person will be given as a deposit to guarantee possible damages, with a minimum of € 600, in cash or by credit card, which will be returned upon departure.
3. Time of arrival and departure
• Check In: ​​16:00 h.
• Check Out: 10:00 h.
• Possibility to leave later or enter sooner according to availability.
4. Taxes
All taxes are included in the agreed price.
Surveillance cameras
In compliance with the applicable legislation, the existence of surveillance cameras is reported in the entrances and exterior of the house, not inside it, as well as a warning and alarm system 24 hours a day.